Shipping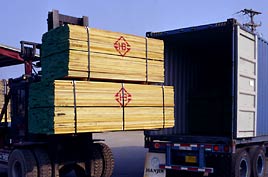 Our central location in northwest Tennessee allows us to ship quality South Central hardwoods promptly via truck, container or piggyback.

Millions of feet of lumber are sorted to length, graded and stickered to enable the many sorts required by today's grade discerning customers. All lumber is stickered on one foot centers.

Export packaging is available for shipment overseas. We export mixed species shipments which means you can order a variety of thickness, species and grades to ship on one load. You can depend on Hanafee Bros. for accurate individual tallies, furnished for your convenience.
Export
As a leading hardwood producer, Hanafee Bros. has been exporting the finest in high quality lumber to clients throughout the world for over 25 years and these clients make up over 55% of Hanafee Brother's customer base. We are a member of the American Hardwood Export Council. The AHEC is the leading international trade association for the American hardwood industry.

Hanafee Bros.' employees are equipped with the latest knowledge in export and international market capabilities. We provide excellent export packaging. The company can ship worldwide by truck, piggyback or overseas containers and can assure on time deliveries.